Mantriji- Choose the right leader.
6 Women Candidates Who Won Delhi Elections
Published On : 27 Feb 2017
Article Category : General News and Current Affairs
This time, Congress, BJP and AAP together fielded 19 women candidates, just 9% of the total candidates from these parties. BJP fielded eight, AAP named six and Congress had five.Here are the six women who won in Delhi today and their stories.
1. Alka Lamba
This 39-year-old AAP leader replaced the party's 2013 Chandni Chowk candidate, Vikram Badhwar. Lamba, who's been a Congress loyalist for the past 20 years, serving as the party's Delhi general secretary as well as national secretary, joined AAP in December 2013. Lamba beat the incumbent candidate Parlad Singh Sawhney, as well as BJP's Suman Kumar Gupta, to win this key central Delhi seat.
2. Rakhi Birla
This 27-year-old AAP leader became the youngest cabinet minister in Delhi when she beat Congress stalwart Raj Kumar Chauhan from the Mangol Puri constituency in north west Delhi in 2013. She defeated Chauhan again on Tuesday in a landslide margin of 22,699 votes.
3. Bhavna Gaur
Gaur beat BJP incumbent Dharam Dev Solanki, who has held the Palam seat for more than 10 years, with a staggering margin. The 42-year-old won more than 30,000 votes against the old BJP hand, despite losing to him in 2013 with a margin of 6.5 percent.
4. Sarita Singh
She defeated incumbent Jitender Mahajan from BJP, winning by 7,874 votes. The 28-year-old replaced AAP candidate Mukesh Hooda, who had lost in 2013 by a wide margin.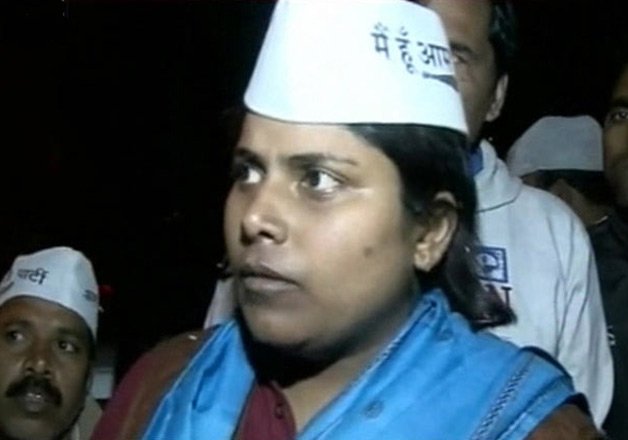 5. Parmila Tokas
She defeated BJP incumbent Anil Kumar Sharma in RK Puram with a margin of 19,068 votes. In the 2013 election, Sharma had contested in the same constituency against Shazia Ilmi (who was then with AAP), and won by a narrow margin.
6. Bandana Kumari
Bandana Kumari retained her Shalimar Bagh seat, defeating BJP's Rekha Gupta by a margin of 10,978 votes. Kumari had sent shockwaves across BJP with her 2013 win against Ravinder Nath Bansal, who she defeated with a comfortable majority at the time. Shalimar Bagh has been long considered a BJP stronghold, which the party has held on to since 1993.
Tags :
Women
Candidates
Won
Delhi
Elections