Mantriji- Choose the right leader.
Gold Monetization
Published On : 27 Feb 2017
Article Category : Economics and Finance
There has been a constant debate on the current account deficit and previous government was blamed a lot of times for not been able to curb it. It may be true that government hasn't taken appropriate steps to highlight the issue, but we also share a part in increasing India's CAD. 
Indian people, especially women have strong affinity towards jewelries and given the fact that gold does not act as liquid asset, importng it in huge quantity have only added to the growing CAD. Gold which should have been used as an alternative to money, instead lie as stock of jewelries in households and as donations to temples and other institutions. They don't use it for monetary transactions, instead buy gold and keep it hidden and safe in lockers. According to a survey, more than 22000 tonnes of gold stocks are there with Indian households and temples. This has deprived the economy in reaping benefits which could have been obtained from the circulation of Gold.
Everyone think of gold as something of immense value, indeed it is, but its true value can only be identified only if it is circulated in the market and used as exchange medium. We use jewelry only on special occasions, but only for such few occasions we keep on accumulating gold in our households. This also highlights the inability of the government and other financial agencies in providing alternate innovative measures for gold savings that could enable its smooth circulation. Instead of using import restrictions as a way to tackle the issue, efforts should been made towards find alternate options. Many Indian temples contain more than 150Kgs of gold, i.e. around 67million$ in terms of cash.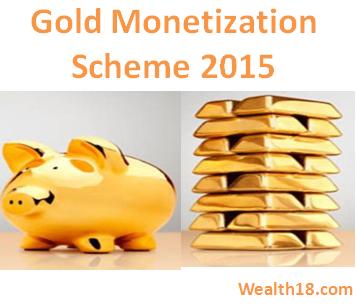 Now imagine this amount of gold be redistributed in the economy and how much this will do to in reducing CAD. Realizing this huge potential, the government has recently approved two gold monetization schemes which aim to bring the huge pile of household gold into market. Besides giving interest in both cash and gold, the schemes will be tax free i.e. the investors will pay zero tax on the returns. It seems lucrative but the golden question would be whether the schemes are enough to attract Indian housewives, traders and temples or more such measures are required? I can only hope that people will soon realize the importance of gold in Indian economy and contribute towards its growth by investing in the monetization schemes started by government.
Tags :
Gold
Monetization