Mantriji- Choose the right leader.
The 4 Faces Of Kejriwal
Published On : 27 Feb 2017
Article Category : Politics
Recently we have been witness to a lot historic moments of our time and that too in consecution. People have been more favorable to change than perceived. Be it the ascension of at the center BJP or the monumental win of AAP against BJP (that can only be explained through a David-Goliath analogy) or the total obliteration of Congress, a party which was functional in the fight for Indian freedom.
 
These events are not mutually exclusive but are very much intertwined. The fall of morals of Congress gave rise to BJP which in its streak of winning got a taste of what it is like to fall with arrogance on your back. 

 
 
What interests us is the coming back of Arvind Kejriwal ,the national convener of Aam Admi Party('Everyone loves a good comeback story. e.g. Rocky , Chak de India') from near shameful debilitation to a victorious phoenix. So how did Kejriwal manage to get back from the point few return from ? Let's have a chronological view at the art of reading public minds, Kejriwal way !

1. 'TOO LATE TO APOLOGISE?' MEDIA ALIAS DURING THAT TIME(M.A.D.T.T) : BHAGODA
 
Only after 49 days of being a chief minister Kejriwal & CO. resigned sighting difference between the center and the opposition. They retaliated in the same way they were when they were activists. This didn't go down well with the people who supported them. They felt deceived.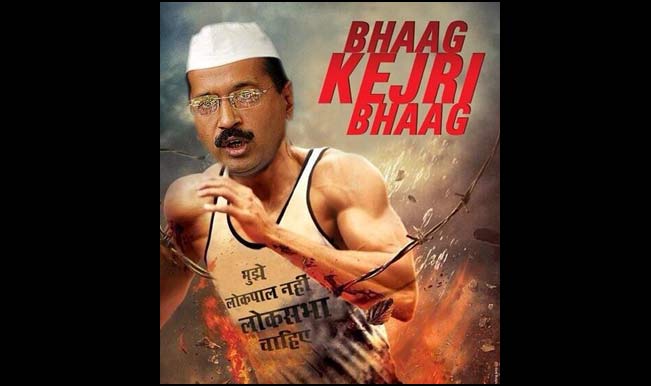 For politicians catering to intelligent public this is a point of no return , but Kejriwal issued a public apology that went well with the AAM ADMI.
  
LESSON: AAM ADMI loves second chances if they see conviction in a person. AAM ADMI is not a perfectionist but aims to achieve their goal through trial and error.
 
2. 'NO KIRAN IN THIS ALLEY' MEDIA ALIAS DURING THAT TIME(M.A.D.T.T) : TOXIC PERSON
 
Inception of AAP can be traced back to INDIA AGAINST CORRUPTION which was pivotal in bringing big names together against the corrupt system. Kiran Bedi was one of the members of this dream team which was thought to change the way India functions.
But when the news broke out that Kiran Bedi was about to be pitted against his former aide, the public again felt deceived.She even went to the length of castigating Kejriwal in the open calling him a 'TOXIC PERSON'.
Let us make clear one thing -- there is no fault in the character of the first woman IPS officer of India, she's immaculate. She was just caught in the cross fire between David and Goliath.
 

LESSON : AAM ADMI has been the victim of deceit for centuries. Be it the overpriced pop corns in the cinema or the postman who wants money in exchange of delivering your passport. They hate it.
 
3. 'WHEN IT GETS PERSONAL' MEDIA ALIAS DURING THAT TIME(M.A.D.T.T) : JHUTA
The BJP government sighting the lack of responsiveness tried extreme measures to ensure that they corrode Kejriwal in every possible way. They called him many names on social media (Allegedly there is a whole dictionary that runs in BJP inner circle ) , published various sarcastic cartoons and even roped in MR.MODI to fling acquisitions in his insidious style(never name no one).

LESSON : AAM ADMI is the kid in the class who gets poke very often but does not retaliate. He just gulps in the aggression and puts up a smile. AAM ADMI's voice is shunned in a place where only BOSE(elite) speakers are allowed. They don't entertain this against their leader now that their number grows in size.

4. 'AS KLEAN AS KEJRIWAL' MEDIA ALIAS DURING THAT TIME(M.A.D.T.T) : CHOR 
 
Few days before elections AAP was accused of laundering money. A serious accusation against a party which was preaching anti-corruption. The allegations were enough for each opposing party to call the man a thief, convener of a scam infested party and everything in between.
But that plan too backfired. There is one thing that AAP is certainly going to introduce: TRANSPARENCY. They had all the funding records in front of the public on their website. A policy that no other party is proponent of.





LESSON : AAM ADMI has a very simple life. He isn't over amibtious which stops him from indulging in unfair activities.He is an open book.
Tags :
Faces
Kejriwal